London
Contemporary
Orchestra

DIFFERENT TRAINS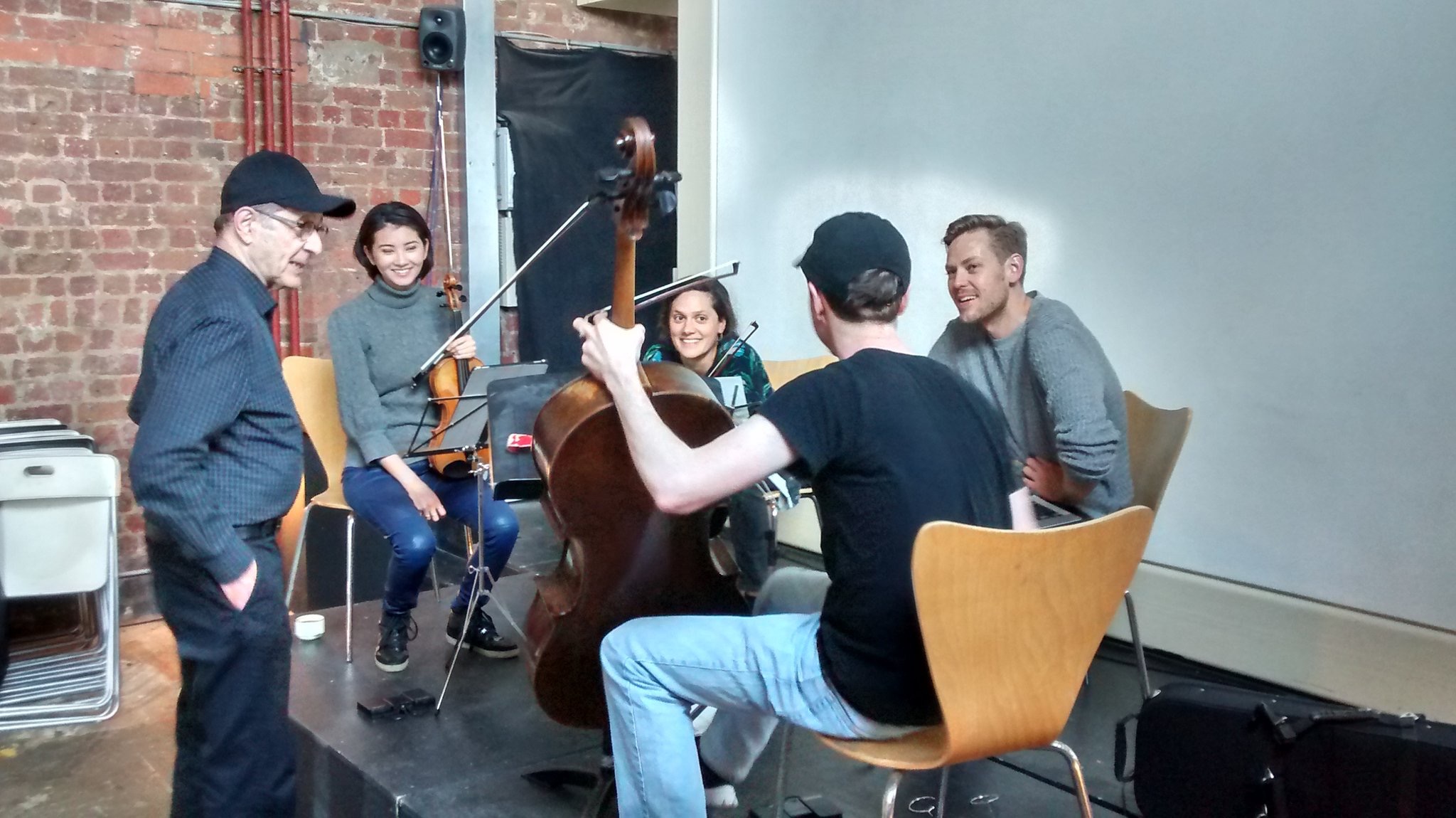 "The 80th-birthday celebrations for Steve Reich, veteran master of minimalist music, seem more extended than the weddings of Renaissance princes — but nothing so far compares with this project. Just outside Liverpool is a railway station, Edge Hill, locally claimed to be the oldest still used by passengers. Here, in an outdoor yard with trains chugging by on either side, hundreds gathered to see a superb performance in the composer's presence of one of Reich's most poignant works: the aptly chosen Different Trains … [This performance] is almost too painful to watch. It says much for the performance of the London Contemporary Orchestra and Sound Intermedia that the music's healing exuberance ultimately prevailed."
The Times ★★★★★
29 September 2016
LIVERPOOL - Edge Hill Railway Station
10 April 2018
LONDON - Queen Elizabeth Hall
26 April 2018
SALZBURG - Republic
ACTRESS & LONDON CONTEMPORARY ORCHESTRA
A unique collaboration commissioned and curated by Boiler Room and the London Contemporary Orchestra pairing producer Darren Cunningham, aka Actress, with the LCO. This world-first performance of the live show presented brand new material as well as expanded arrangements of Actress' dark and brooding electronica.
"…flipped the relation between electronic musician and orchestra on its head: it was like a jolt of electricity."
Financial Times ★★★★
10 February 2016
LONDON - Barbican Hall
23 July 2016
MOSCOW - Strelka Institute
6 September 2017
LONDON - Tate Modern
26 May 2018
LONDON - Barbican Hall
PHANTOM THREAD: LIVE
Set in the glamour of 1950s post-war London, renowned dressmaker Reynolds Woodcock (Daniel Day-Lewis) and his sister Cyril (Lesley Manville) are at the centre of British fashion, dressing royalty, movie stars, heiresses, socialites, debutantes and dames with the distinct style of The House of Woodcock. Women come and go through Woodcock's life, providing the confirmed bachelor with inspiration and companionship, until he comes across a young, strong-willed woman, Alma (Vicky Krieps), who soon becomes a fixture in his life as his muse and lover. Once controlled and planned, he finds his carefully tailored life disrupted by love.
Phantom Thread is Paul Thomas Anderson's eighth film, and his second collaboration with Daniel Day-Lewis.
more info>>
31 January 2018
LONDON - Royal Festival Hall
2 February 2018
ROTTERDAM - Doelen Grote Zaal
24 February 2018
NEW YORK - Brooklyn Music Academy
2 March 2018
LOS ANGELES - Ace Hotel
STILL POINT
"the aural equivalent of a Rothko canvas"
The Telegraph
"A thrilling late-night Prom featured five women who push back the frontiers of electronic composition."
The Guardian
★★★★
Daphne Oram's visionary
Still Point
fills the cavernous space of the Royal Albert Hall for the first time in the premiere of a revised realisation based on recently discovered archive material. Composed in 1949 – almost a decade before Oram co-founded the BBC Radiophonic Workshop – the piece was possibly the first to combine a live orchestra with live electronic manipulations, here played via turntables.
Still Point
forms the centrepiece of a late-night sonic exploration that features work by Delia Derbyshire – another Radiophonic Workshop pioneer who achieved cult status for her electronic arrangement of the
Doctor Who
TV theme – as well as new works inspired by the Radiophonic legacy.
24 June 2016
LONDON - St John's Smith Square
23 July 2018
LONDON - Royal Albert Hall
DANIEL WOHL AND LCO: HOLOGRAPHIC
In this special performance Daniel Wohl and London Contemporary Orchestra perform music from
Holographic
at Kings Place.
"IN C" WITH TERRY RILEY
"Thrilling moments of gear-change as individual instruments broke through to the surface, disrupting the established groove and setting in motion a new phase. The LCO's spread of instrumental timbres ultimately magnified the piece's kaleidoscopic effect and its formidable, hard-won climax."
The Guardian
LCO SOLOISTS @ LOADING BAY, ROYAL ALBERT HALL
Taking place deep underground, this show – the first classical concert to take place in the space, presented an eclectic programme of music including works from long-term collaborator Jonny Greenwood, giants of American Minimalism Steve Reich and Michael Gordon, Mica Levi and CHAINES.
Click here
to read the full article.

©NOMAD MUSIC PRODUCTIONS
LONDON,UNITED KINGDOM